Reporting on the last year, and looking forward to the next.
With your support, we've made an incredible difference for the broader ace community! Join us on a journey through the impact we've had last year, the direction we're heading in 2017, and the ways you can support our life changing work.
Inclusive Schools
Supporting Ace Youth Across the Nation
In the 2014 – 2015 school year, we helped supply resources to more than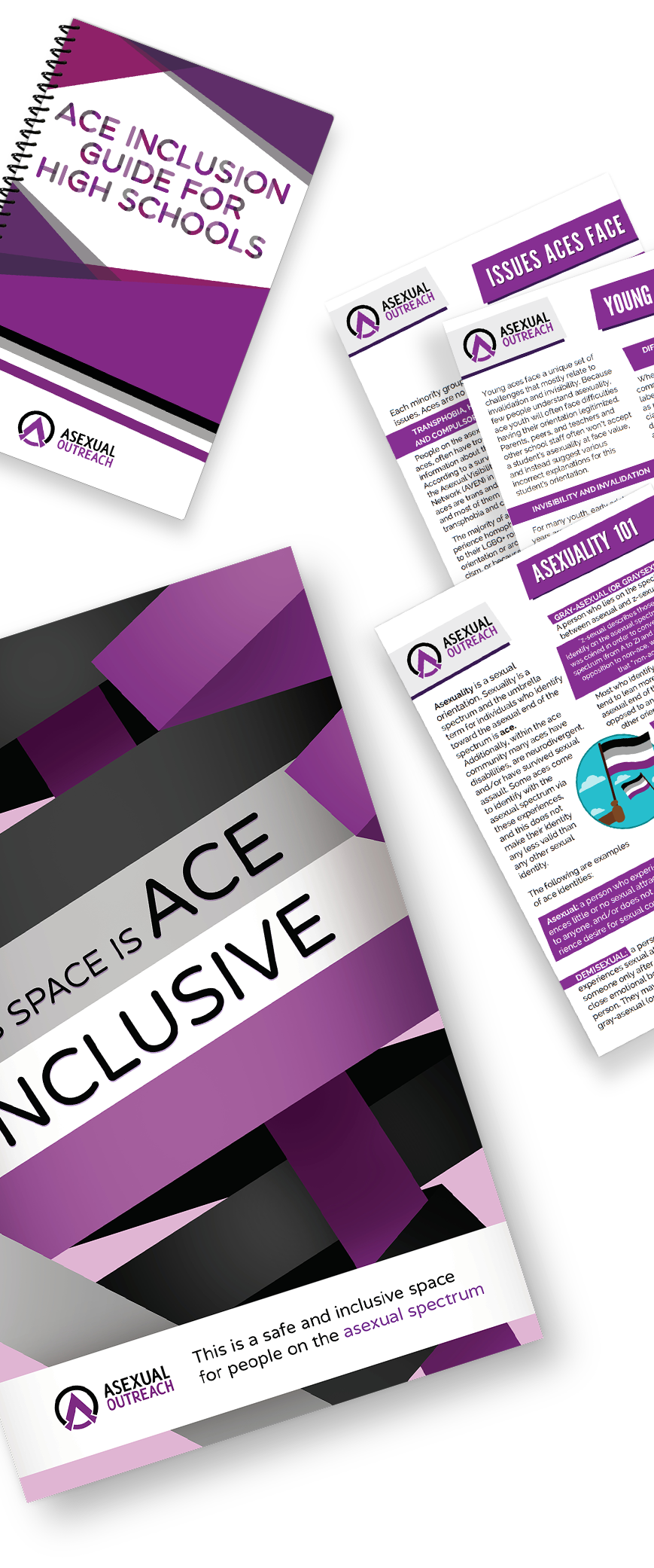 Our 2017 Youth Program Plans Include
1. Expanding our existing school resources program
Last year, we simply couldn't meet the incredible demand for our high school resources. For 2017, we've doubled our school resources budget to ensure more youth have access to these life-changing materials.
2. Building a database of local support systems for ace youth
Every week, we get emails from youth and their parents asking us to help them find ace-inclusive service providers in their area. These requests are increasing so rapidly that we've decided to contact each LGBT community center across the country to determine where inclusive services exist, and to build a database of supporters across the country that youth can use to find help.
3. Working toward inclusive sex-ed curricula
Toward the end of 2017, as we continue to build an increasingly connected movement of local ace community groups, we will begin the initial stages of a long-term national campaign to ensure ace-inclusivity wherever comprehensive sexual education curricula exists.
Strengthened Communities
Building a Culture of Collaboration
Between Pride 2014 and 2015, we've worked directly with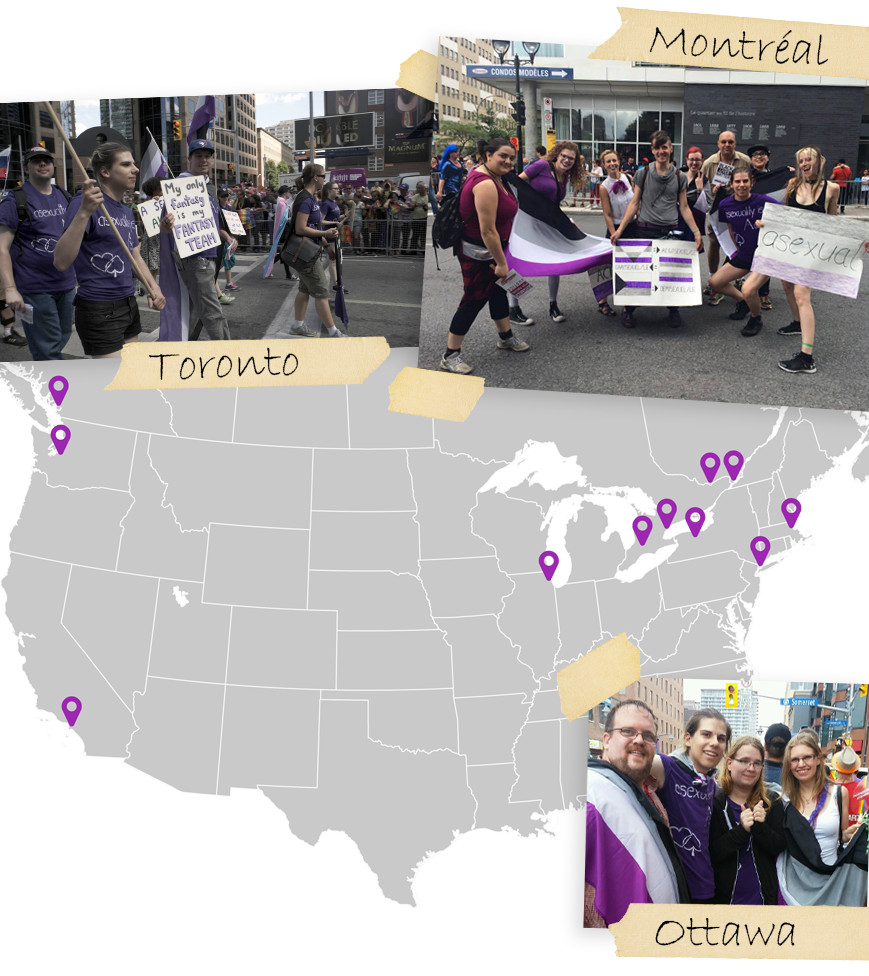 Our Plans to help Strengthen Communities in 2017
1. Conducting a Large Scale Study on Group Effectiveness
In working with community groups from coast to coast, we've come to recognize that each has its own distinct strengths, but we've previously had no way of measuring those.
At the end of 2016, Asexual Outreach will be launching a landscape research study to determine:
What makes community groups successful, sustainable, and effective;
What path new community groups should take in order to best establish themselves;
What effective advocacy looks like in a local context, and what key steps can best establishing those advocacy efforts.
2. Launching an online platform for organizing and advocacy
By the end of January, Asexual Outreach will be launching a new online website that will allow community groups:
Share knowledge and resources in a collaborative manner;
Organize events and better communicate with their members;
Plan projects and develop advocacy campaigns.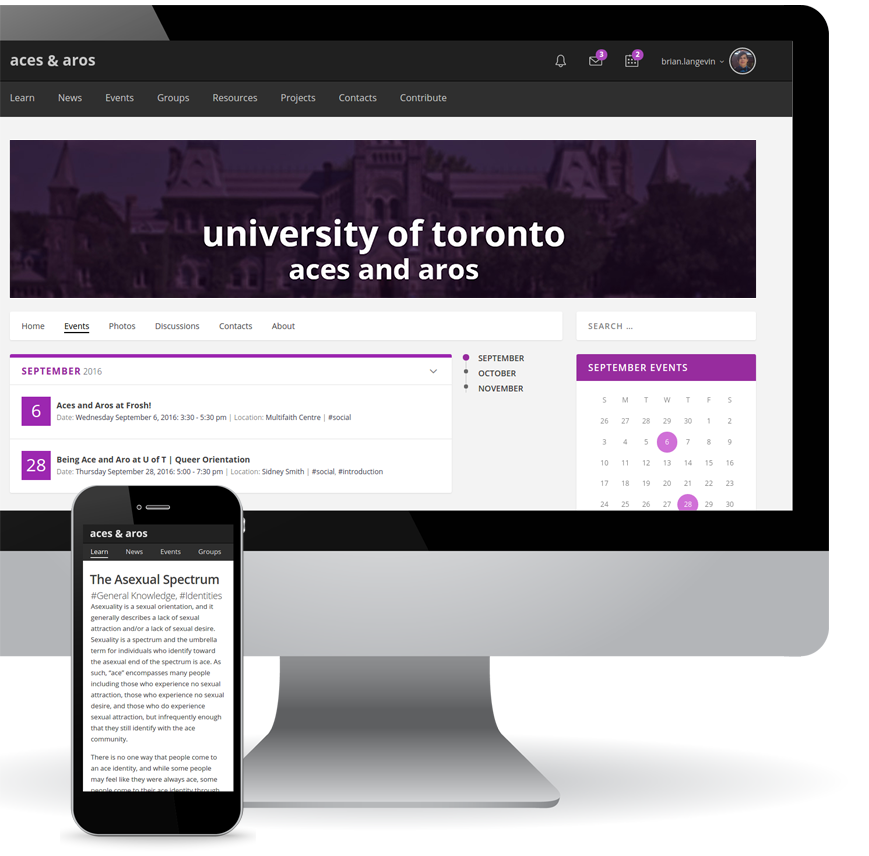 International Conferences
Furthering the Movement Together
Our 2015 Toronto Conference Brought Together
Determining Advocacy Focuses
Aces from across Canada, the United States, and the United Kingdom came together for two days to build community, discuss the direction of the movement, and determine key advocacy focuses for the next few years.
Highlighting Youth Issues
For the first time ever in our community, several high school students came to this event. Their attendence highlighted a growing need to support the youth of our community – a need that Asexual Outreach continually works to fill.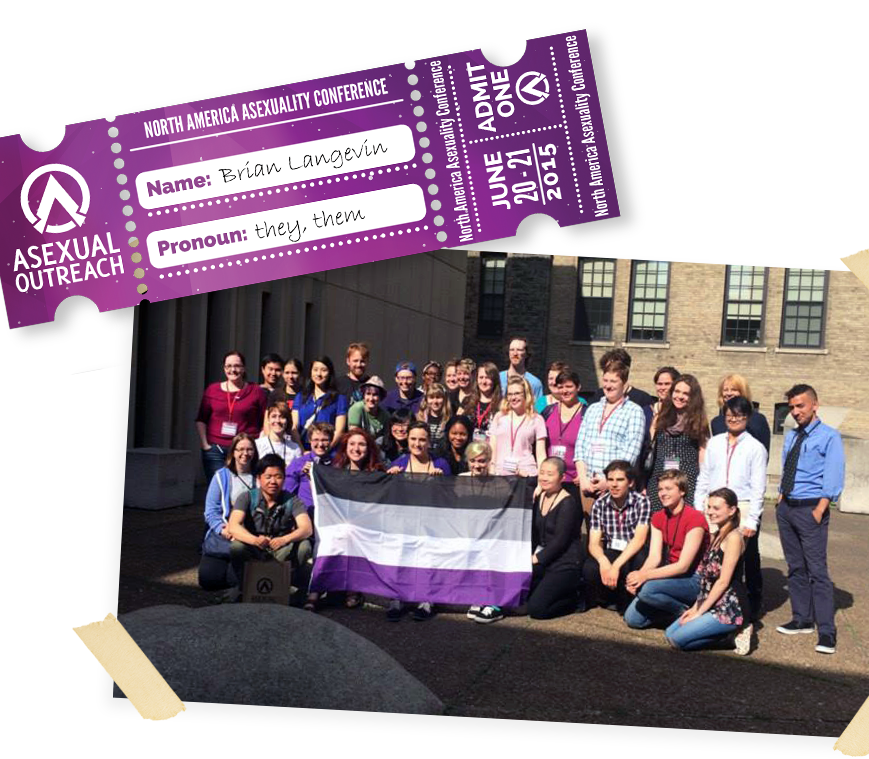 Our 2017 Conference Goals Include
1. Bringing One Key Organizer from Each Local Community
Our 2015 conference had a single, hour long session devoted to local community group organizing. One key takeaway was: "We could have an entire conference devoted to this!"
In the Summer of 2017, we plan to host a conference in Boston with a narrower focus than Toronto's conference: bringing together one key organizer from every local ace community group across the United States and Canada.
2. Strengthening Local Communities
Over the course this multi-day event, we will foster discussions around local community organizing, allowing attendees to share their knowledge on effective community building and organizing. All of this will be built on top of the findings from our landscape community group study, ensuring communities leave with the key ingredients they need to strengthen their communities back home.
3. Building a National Network
As the first event to bring together every established local community group from across the United States and Canada, this conference allows us an unprecedented opportunity to transform our currently isolated communities into a connected, effective, and driven national network.
1. Share
We can only accomplish all of this with broad support from our community. By sharing this campaign with others, you can help us reach more members of the ace community, getting us closer to reaching our goal.
2. Volunteer
Most of our 2017 programs have a low financial cost, but a high volunteer cost. You can significantly help us by offering to volunteer for a few hours a week. We'll make sure it's worth your while!
3. Donate
In order to accomplish all of our 2017 goals, we will need significant financial support. To provide us financial stability for next year, we need to raise $41,000 by December. (This total is broken down by category at the bottom of this page)
You can support us most by donating once a month. This allows us to rely on consistent revenue to support our ongoing services, and allows you support us without having to donate everything all at once. Donating monthly is as simple as filling out a form, and you can easily change your amount or cancel at any time.
If you are not able to give monthly, you can still support us with a one time donation.
$9,469 pledged of $41,000 goal.
0 days left.
A Breakdown of our Budget
Our $41,000 fundraising goal breaks down as follows:
$3,000 to restock all of our school resources, allowing us to send books, posters, and resources to schools across the nation.
$1,700 to cover the costs for Asexual Outreach to attend and exhibit at Creating Change: a conference that brings together LGBTQ+ nonprofit organizations from across the United States. Attending Creating Change provides us the opportunity to connect with major LGBTQ+ organizations, furthering the ace advocacy movement on a broader scale.
$30,000 to fund our community group organizers' conference in Boston. Most of this budget will go toward funding flights and accommodations for organizers who otherwise could not afford to attend.
$6,300 to finance the infrastructure we need to support our programs.** This includes:

$1,500

for website hosting: this powers our website and our upcoming advocacy platform;

$180

for our phone system: this allows us to better communicate with partners, and which provides central communications at major events;

$520

for online service: these allow us to manage our projects and develop our websites;
$4,100 for office space: this allows us to work with Toronto-based volunteers (our core volunteer base), allows us to store the resources we send to schools and community groups, and allows us to receive and distribute program supplies
**Our operational costs are in line with the standard for most nonprofits. As you can see, these costs do not take away from your donation's impact; instead, they are central to our work, and will allow us to accomplish our 2017 goals.